Since the BJP government is in power it is constantly reiterating that no scam has taken place under its rule, however to unearth any scam it needs to be investigated first. BJP is using the investigative agencies as caged parrot and is preventing them from investigating those scams or allegations where BJP leaders are involved whereas they are letting them loose on opposition leaders at slightest excuse.
This has become a pattern now that any slightest excuse is used to hound political opponents using the investigative agencies as a tool which can be exemplified by cases against AAP leaders in Delhi, the declaration of Zakir Naik as terrorists instigator etc. There is a list of leaders whom BJP claimed were corrupt when they were in other parties and who went on to join BJP later which acted as proverbial dip in the holy ganges clearing him / her of any blame. There are several incidents when BJP openly called certain parties and leaders as anti nationals and corrupt during election campaigns but then went on to join hands with them later to form government. So BJP has taken hypocrisy and propaganda to altogether different level. But as they say truth has its ways of showing up and recently the sheer volume and scale of corruption has helped the shit hit the fan and forced the political parties to run for cover.
The 2 billion Dollar PNB scam totally exposed the false claims of corruption free rule of BJP and tall claims of PM as "chowkidaar" or a security guard will guard nation against foreign threats as well as from corruption. Based upon news we have heard so far it seems that more than chowkidar the PM & BJP leaders acted as bhaagidar (accomplice / partner in crime) and not only helped these corrupt businessmen to indulge in corrupt practices but also prompted them to help them escape before crying wolf. By various videos and pictures doing the round which show PM taking name of one of the prime accused as "mehul bhai" and going on to describe his habits and then having picture with another prime accused along with industry leaders in davos summit the BJP seems entangled in web of its own and from which it will find itself very difficult to escape.
More shocking is the news that there was a whistle blower who alerted PMO Office and various vigilance agencies about the scam in 2016 itself, however BJP government still acts naive and claims ignorance about this whole thing. In fact as per the whistle blower (and proof was presented by him to the press which hasnt been denied by government) PMO forwarded his complaint to Registrar of Companies and ROC sent him a letter closing the case without even asking him for evidence!
To salvage loss of face from the masses government caged parrot the CBI conducted raids and within hours it was circulated that they managed to confiscate goods and assets worth 5000 crores. This has made our agencies laughing stock in front of the world and has eroded all remaining credibility that these investigating agencies have. Reason being a person who was so cunning and calculative who after doing all corruption safely managed to fly out of india with all his family members in a very planned manner wont be naive enough to leave crores worth of diamond & jewellery in his showroom to get it confiscated. Moreover to do the valuation of those items would take time not a couple of hours and lastly it may help case of nirav modi when he can claim that 5000 crores was already recovered assuming he is captured in future and has to pay the remaining amount whereas the real market value of the confiscated items may be much less.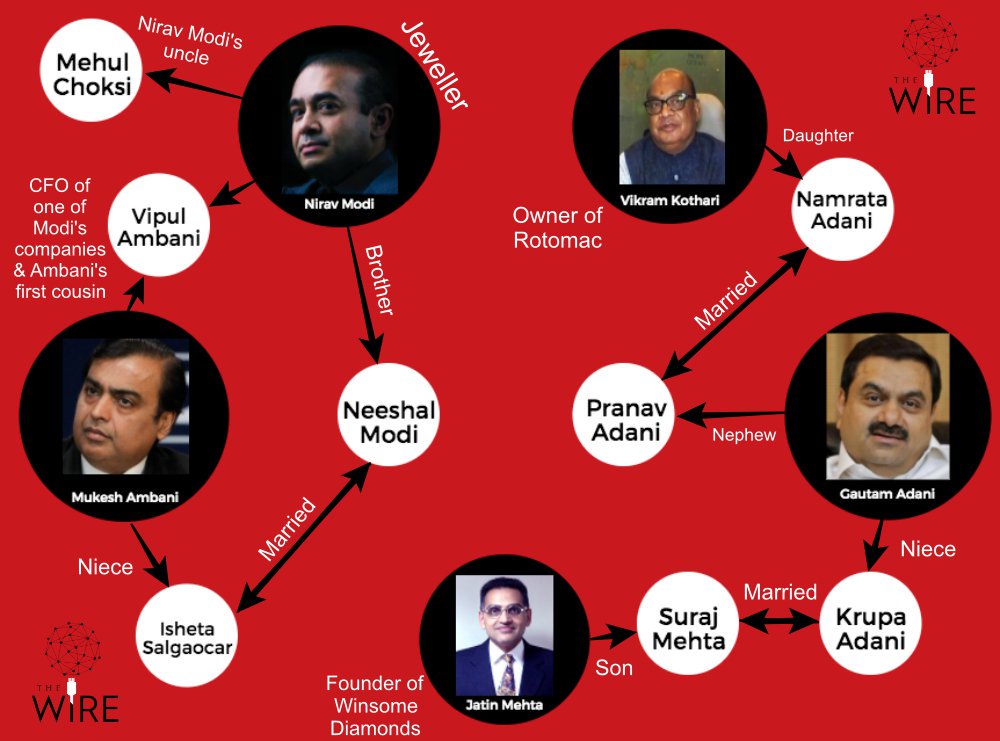 The above diagram shows the BJP including PM having cosy relationships with big business houses and their relatives who are posted at key government positions having decision making authority and are related to partners in crime. This may indicate that the corrupt will never be brought to book & justice will never be served considering the influence these corrupt people have in corridors of power.
The modus-operandi of issuing LoUs and round tripping which finds mention in CBI Report confirm that 45% of them were issued over last 1-2 years. Apart from this example which is a proven scam there are other scams like Vyapam Scam & serious allegations which need to be investigated further and which can uncover more including but not limited to Defense Procurement of Rafaele Aircraft, Increase in investment value of 50,000 INR to 80 Crores in just 2 years by firm owned by Amit shah's son's etc.
As is the norm for political parties, BJP puts blame on congress for the PNB scam and hence the BJP paid media is busy asking more pertinent questions to Congress which makes us think whether we still have congress government in power. All in all we can see the naked dance of Gujarat model where politicians commit crimes and scams, media ignores or blames others or focusses on non-essential matters (like mandir-masjid, bollywood, vande mataram, love jihad etc.) the investigative agencies remain mute spectators, the judges are silenced and people pay the ultimate price in terms of income tax, price rise, inflation & unemployment.
Thousands of farmers commit suicide each year due to pressure and harassment they have to endure from banks and their recovery agents for few thousand rupees. Here we have a systematic loot from banks to the tune of lacs of crores which are never meant to be recovered, only to be written off after few years by banks as NPAs or non-performing assets.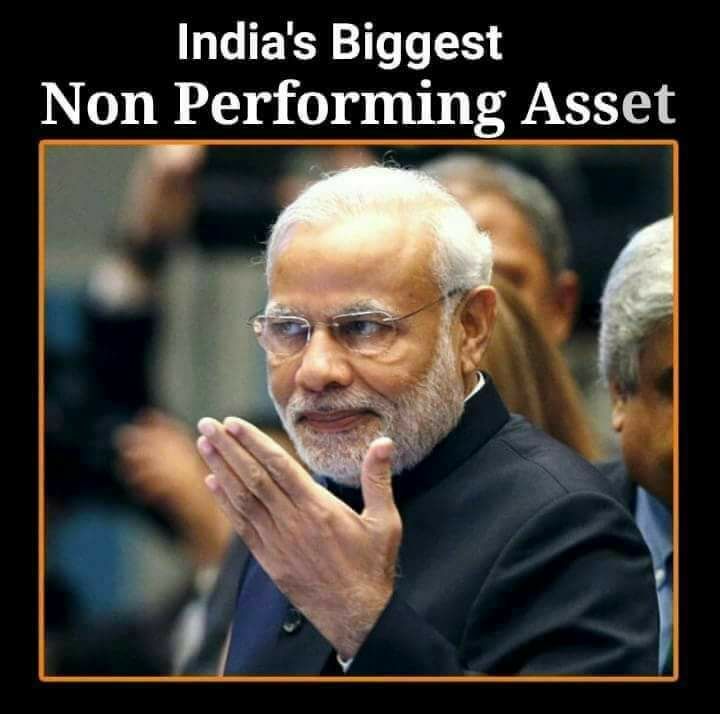 The case of Nirav Modi doing the vanishing act is not an isolated one, We have seen how Vijay Mallya fled to UK after doing scam which is worth 9000 crores, we have seen Lalit Modi being facilitated to get safe haven in UK through letters written by BJP leader, we have the case of Arms Dealer who had possession of secret government documents and whose passport was impounded escaping through Nepal, which proves that not only are we bearing the brunt of corruption but also we are being exposed to security threats as state secrets are being exploited by arms dealers at behest of defence companies and these may later land up in hands of our enemies.
Also important to note is that government is delaying lokpal bill and appointment of lokpal for last 4 years & this is despite SC order for the same. BJP government has appointed corrupt and people with questionable antecedents as head of various law enforcement  agencies including CBI & CVC. NaMo removed Rajan & appointed former President of RIL, Urijit Patel as RBI Governor to facilitate his Demonetization. KV Chowdhary who gave the Vigilance excellence award to PNB in 2017, was appointed Chief Vigilance Commissioner in 2016 by NaMo after he as successfully hid evidence of NaMo receiving 40Cr from Sahara & 25 Cr from Birla (recovered in IT raids) from CBI. All in all only God can save this country now.
Reference:
http://www.moneycontrol.com/news/india/whistleblower-hari-prasad-sv-had-alerted-pmo-of-possible-pnb-scam-naming-mehul-choksi-in-a-2016-letter-2509137.html
https://www.nationalheraldindia.com/corruption/is-the-modi-govt-not-being-truthful-in-nirav-modi-case-pictures-and-documents-are-telling-different-story
https://www.thenewsminute.com/article/pnb-fraud-whistleblower-narrates-how-he-went-one-agency-another-vain-76556
https://www.trendsmap.com/twitter/tweet/964100444690763776